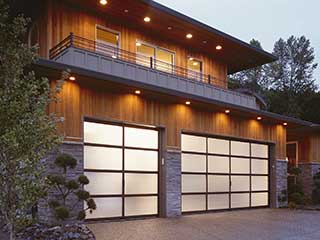 Rust & Weather Resistant Panels
There is a wide choice of finishes and panels when it comes to Clopay's aluminum garage doors. These units have a frame made entirely from this metal. The thickness of the frame is 2.125 inches. Aluminum is light yet strong. It is resistant to rust unlike most metals. This makes it particularly suitable for all types of outdoor structures and facilities.
There are three finish options available with the aluminum doors of this brand. The anodized finish is a coating of aluminum oxide which makes the metal even more weather-resistant. The second option is powder coating. It is a barrier which prevents air and moisture from reaching the surface of the metal. The Ultra-Grain paint developed by the company plays the same role. The unique thing about it is that it mimics the looks of natural wood. That is why it is available in colors such as light and dark cherry.
Three Options For Panels Cover All Your Needs
The panel options available with these doors include tempered glass, acrylic and aluminum. There are glass and acrylic panels with different levels of transparency. While acrylic is stronger compared to glass, it can scratch more easily and change its color over time. It is possible to opt for insulated glass panels to make the overhead door more energy-efficient. The aluminum panels are solid. They can be painted in different colors. Just like with the frame, it is possible for the paint finish to mimic natural wood.
The doors feature a replaceable vinyl bottom seal held by an aluminum retainer. They also come with rollers made from steel with nylon tires for quieter operation. Another major feature is the grip handle with a matching color. It is possible for this type of doors to receive WindCode reinforcement.